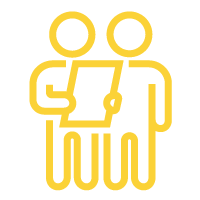 WORK SHADOWING
Visualize the busy daily life of employees through virtual
activities, creating a cohesive and collaborative team!
Employee Work Shadowing
WHAT IS WORK SHADOWING MONTH?
Enhance employee collaboration and foster closer relationships!
During the Work Shadowing month, employees will be able to show their day-to-day work routine through practical tasks, as well as virtually "shadow" their colleagues – to know not only the daily responsibilities of their teammates and other departments but also their opportunities for professional growth in the company.
Benefits of Work Shadowing
Through educational tasks and game elements Work Shadowing month:
Promotes Collaboration
and Productivity
Introducing colleagues to the responsibilities of colleagues and other departments will increase knowledge and understanding of the daily processes of the company, leading to more effective collaboration.
Unites
the Team
Team activities improve communication between colleagues and build closer relationships, creating a more cohesive and friendly team as well as a more enjoyable work environment!
Strengthens Employee
Engagement and Loyalty
A supportive, caring and motivating work environment and a friendly team create a sense of belonging to the company, fostering employee engagement and loyalty.
Work Shadowing PDF
Enter your e-mail and download the PDF on Work Shadowing!
EN – PDF -"Work Shadowing" Tag="en-pdf-work-shadowing"
EN – PDF -"Work Shadowing" AC Tag="en-pdf-work-shadowing"
"*" indicates required fields
Employee Engagement Platform
HOW TO ORGANIZE A WORK SHADOWING MONTH?
A versatile platform for organizing virtual activity-challenges that will strengthen both team spirit and collaboration among colleagues, as well as understanding the functions and values of the organization.
REQUEST A DEMO
Show your employees all functions of the company and build a strong team!
Work Shadowing Task Creation
Use a ready-made solution or create one yourself!
Tasks Designed by Efectio
Our team of experts will develop customized challenges for your company with a set of tasks to achieve the desired results, such as a better understanding of organizational goals and processes, team building and closer collaboration among colleagues.
Create a Task Yourself!
Access our platform and the challenge catalogue to design your own challenging tasks. Our examples will help you as customizable templates to personalize them and achieve your desired results!
Request a Demo
EN – DEMO – "Work Shadowing" Tag="en-demo-work-shadowing"
EN – DEMO – "Onboarding" AC Tag="en-demo-onboarding"
"*" indicates required fields