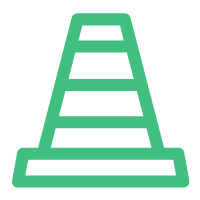 WORKPLACE SAFETY AUTOMATIZATION
Provide your employees with a digital and effective safety briefing!
Safety Instruction Platform
WHAT IS EFECTIO WORKPLACE SAFETY?
Ensure that your employees are ready for emergency situations, aware of any health risks in the work environment and your team takes care of its own safety!
A safe and work-friendly environment is the very foundation of any business. By gaining basic theoretical knowledge and skills in the field of security, employees will feel prepared and protected.
Efectio enables the company to develop customized and automated work safety programs. By developing a set of different types of tasks, employees will be able to systematically learn the company's most relevant and significant workplace safety information and access basic learning materials to help them understand the right actions for safe work.
Benefits of Workplace Safety Automatization
The workplace safety automatization, through interactive tasks and gamification elements, will ensure:
Raised Awareness
of Risks
Employees who are aware of the physical and psycho-emotional risk factors, will take care to implement healthy habits both during and outside work.
Effective
Learning Practice
A thoughtful and strategic set of workplace safety materials and tasks will facilitate the employee's learning process, offer new skills and provide easy monitoring.
Convenient
Briefing Format
Ability to offer automated safety briefing to every new employee, as well as existing employees, anytime, anywhere, and save resources.
Workplace Safety Automatization PDF
Enter your e-mail and download the PDF on Workplace Safety Automatization!
EN – PDF -"Workplace Safety Automatization" Tag="en-pdf-workplace-safety-automatization"
EN – PDF -"Workplace Safety Automatization" AC Tag="en-pdf-workplace-safety-automatization"
"*" indicates required fields
Employee Engagement Platform
HOW DOES WORKPLACE SAFETY WORK?
Workplace Safety Task Creation
Use a ready-made solution or create one yourself!
Tasks Designed by Efectio
Use ready-made office work safety templates with most important information to facilitate a smoother learning process!
Create a Task Yourself!
Gain access to our platform and challenge catalog to construct your own tasks and achieve your desired result!
Request a Demo
EN – DEMO – "Workplace Safety Automatization" Tag="en-demo-workplace-safety-automatization"
EN – DEMO – "Workplace Safety Automatization" AC Tag="en-demo-workplace-safety-automatization"
"*" indicates required fields