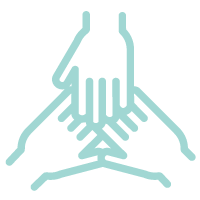 TEAM BUILDING
Team building with gamification and healthy competition elements for
active employee engagement and strengthening the overall team spirit.
Team Building Activities
WHAT IS TEAM BUILDING?
Enable colleagues to get to know each other better and foster a collaborative culture!
With Efectio tasks, designed for teams to be more aware of company values, each participant will have the opportunity to get to know their colleagues and company functions better, as well as discover more about their personal role within the collaboration.
The advantage of Efectio is the ability to unite physically distant colleagues and create a sense of teamwork with friendly competition elements while performing tasks.
Benefits of Team Building
Team building with interactive group tasks and healthy
competitive spirit will help to:
Promote
Employee Engagement
The advantage of the digital platform is the ability to give a sense of teamwork and unite colleagues who are in different locations or who do not communicate on a daily basis.
Become More
Efficient at Work Tasks
Better familiarity with colleagues and more open communication within the company team will also facilitate more efficient and faster collaboration between colleagues with different functions and departments.
Get to Know
the Company Better
Through tasks and challenges, colleagues will have the opportunity to learn something new about the company and better understand its values, fostering a sense of belonging and loyalty.
Team Building PDF
Enter your e-mail and download the PDF on Team Building!
EN – PDF -"Team Building" Tag="en-pdf-team-building"
EN – PDF -"Team Building" AC Tag="en-pdf-team-building"
"*" indicates required fields
Employee Engagement Platform
HOW DOES TEAM BUILDING WORK?
A versatile platform for organizing virtual activity-challenges that will strengthen both team spirit
and collaboration among colleagues, as well as understanding the functions and values of the organization.
REQUEST A DEMO
Get to know your colleagues better and feel a friendly competitive spirit!
Team Building Task Creation
Use a ready-made solution or create one yourself!
Tasks Designed by Efectio
Our team of experts will develop individual and group challenges that are customized for your company with a set of tasks to achieve the desired results, such as promoting better collaboration among colleagues, improving understanding of the organization's goals and building a common identity.
Create a Task Yourself!
Access our platform and the challenge catalogue to design your own challenging tasks. Our examples will help you as customizable templates to personalize them and achieve your desired results!
Request a Demo
EN – DEMO – "Team Building" Tag="en-demo-team-building"
EN – DEMO – "Onboarding" AC Tag="en-demo-onboarding"
"*" indicates required fields