Growing Emphasis on Employee Experience & Wellbeing in the Workplace
In the dynamic landscape of modern workplaces, the emphasis on employee experience and wellbeing has evolved from being a mere buzzword to a strategic imperative. In recent years, there has been an expanding research that has shown the positive impact of employee experience and wellbeing on business outcomes such as productivity, retention, and customer satisfaction.The year 2024 is set to witness a significant shift in how organizations around the world approach these critical aspects of HR.
In this post, we invite you to explore why employee experience and wellbeing have taken center stage and uncover actionable steps for companies aspiring to excel in this field.
The Changing Work Landscape
The workplace landscape is in a state of constant flux. Factors such as technology advancements, demographic shifts, and global events like the COVID-19 pandemic have reshaped the way we work. Already in 2020 a Slack study confirmed that 72% of employees wanted to remain in a hybrid work model.
Why Employee Experience & Wellbeing Matter
The realization that happy and healthy employees are more engaged, productive, and loyal is driving organizations to put employee experience and wellbeing at the forefront of their HR strategies.
Employee Experience
Employee experience (EX) includes every interaction and touchpoint an employee has with their organization throughout their journey, from recruitment to offboarding. It's about creating a positive and meaningful workplace culture that aligns with the company's values and supports employee growth and satisfaction.
Employee Wellbeing
This goes hand-in-hand with employee experience. It focuses on the physical, mental, and emotional health of employees. A holistic approach to wellbeing considers factors like work-life balance, mental health support, access to healthcare, and stress management.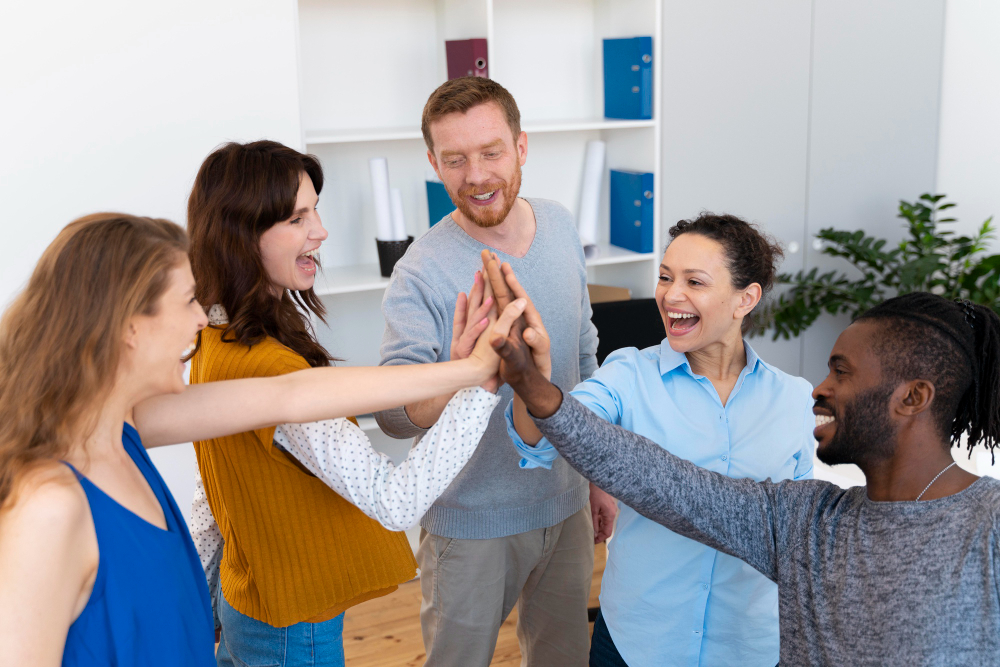 The Impact on Business
Investing in employee experience and wellbeing isn't just a feel-good initiative; it has tangible benefits for businesses.
Here's how prioritizing these aspects can positively impact your organization:
1. Enhanced Productivity
Happy employees are more productive. When individuals feel valued and supported, they tend to go the extra mile in their roles. The result? Increased efficiency and higher-quality output. According to a Job Satisfaction survey happy employees also have 13% more sales compared to their unhappy colleagues
2. Employee Retention
High turnover can be costly and disruptive. Fostering a positive employee experience and promoting wellbeing can significantly reduce turnover rates, saving resources and preserving institutional knowledge.
3. Attracting Top Talent
In a competitive job market, organizations that prioritize employee experience and wellbeing are more likely to attract and retain top talent. Potential hires are increasingly looking beyond compensation to evaluate workplace quality. In a Gartner study 56% of candidates reported that the experience they have in their job is just as important to their job satisfaction as their compensation and benefits.
4. Improved Brand Reputation
A company that is known for its commitment to employee wellbeing and positive experiences becomes an employer of choice. This not only attracts talent but also enhances the organization's brand reputation.
5. Better Customer Service
Happy employees tend to provide better customer service. When your staff is content and engaged, it reflects positively on your interactions with customers and clients.
Key Trends in Employee Experience & Wellbeing
To stay ahead of the curve in 2024, HR professionals need to be aware of the key trends shaping employee experience and wellbeing strategies:
1. Hybrid Work Models
The rise of remote and hybrid work models necessitates new ways of ensuring that employees remain connected, engaged, and supported, regardless of their physical location.
2. Mental Health Support and Personalized Wellness Initiatives
The pandemic has highlighted the importance of mental health support. Companies are increasingly offering resources and programs to help employees manage stress and maintain their emotional wellbeing. Generic wellness programs are giving way to personalized initiatives that cater more to individual needs and preferences.
3. Technology Integration
HR technology is playing a pivotal role in enhancing employee experience. From AI-powered chatbots for employee inquiries to data analytics for wellbeing insights, technology is revolutionizing HR practices. Among 177 HR leaders surveyed in Gartner, 84% of respondents are optimistic that generative AI will enhance the productivity of existing HR activities, while two-thirds believe it will eliminate redundant tasks within the HR function.
Strategies for Success
Now that we've explored the why and what of employee experience and wellbeing, let's dive into how your organization can successfully navigate this evolving landscape:
1. Conduct Regular Surveys
Seek feedback from employees to understand their needs and concerns. Regular surveys can provide valuable insights into what's working and where improvements are needed.
2. Develop Flexible Policies
Flexibility is key in the modern workplace. Create policies that allow for hybrid work arrangements and accommodate diverse needs. According to Gartner, organizations that do not establish clear norms for hybrid work may see a 12% increase in the likelihood of employees leaving.
3. Offer Comprehensive Wellness Programs
Go beyond traditional wellness programs and offer holistic support that addresses physical, mental, and emotional wellbeing. In 2021 Statista study showed that around 75% of U.S. employees stated they agree that employee wellbeing programs offered by their employer are one of the reasons they stay at their job.
4. Embrace Technology
Leverage HR technology to streamline processes, gather employee feedback, and track wellbeing initiatives' effectiveness.
Conclusion
As we step into 2024, the growing emphasis on employee experience and wellbeing is reshaping the way businesses operate. Organizations that recognize the importance of these factors and adapt to the changing landscape will not only thrive but also create workplaces that attract top talent and foster long-term success.