Online Meetings Simplified: Top Tips for Seamless Video Conferencing
In recent years, online meetings and video conferences have become the norm for collaborating with colleagues and clients. This convenient technology allows people from anywhere worldwide to connect without leaving their homes or offices. But some challenges come with the option to gather virtually online. These include technical issues and problems engaging participants compared to face-to-face interactions. If hosts or facilitators aren't mindful of the agenda, online meetings can quickly become lengthy and disorganized.
A good host or organizer will prepare beforehand and observe best practices during each gathering. If you're planning an online meeting or video conference soon, consider the following tips to make it efficient and collaborative:
1) Choose the Right Technology and Platform
Technical issues like poor internet connections and audio or video problems can plague online conferences and meetings. Your priority as a host or organizer should be to ensure a reliable internet provider for uninterrupted video call and conference experiences.
Using the data plan on your phone as a backup is also a good idea. Do a mobile plans comparison of your region's different cellular service companies, and find out which one can guarantee you the most stable connection.
In addition, select a reliable video conferencing platform that suits the needs of your gathering. Video calls using social media platforms are informal and best used to catch up with loved ones. If you're meeting with clients and colleagues, consider other platforms. Pick one that both you and your participants are comfortable with and that will allow you to comport professionally in front of each other.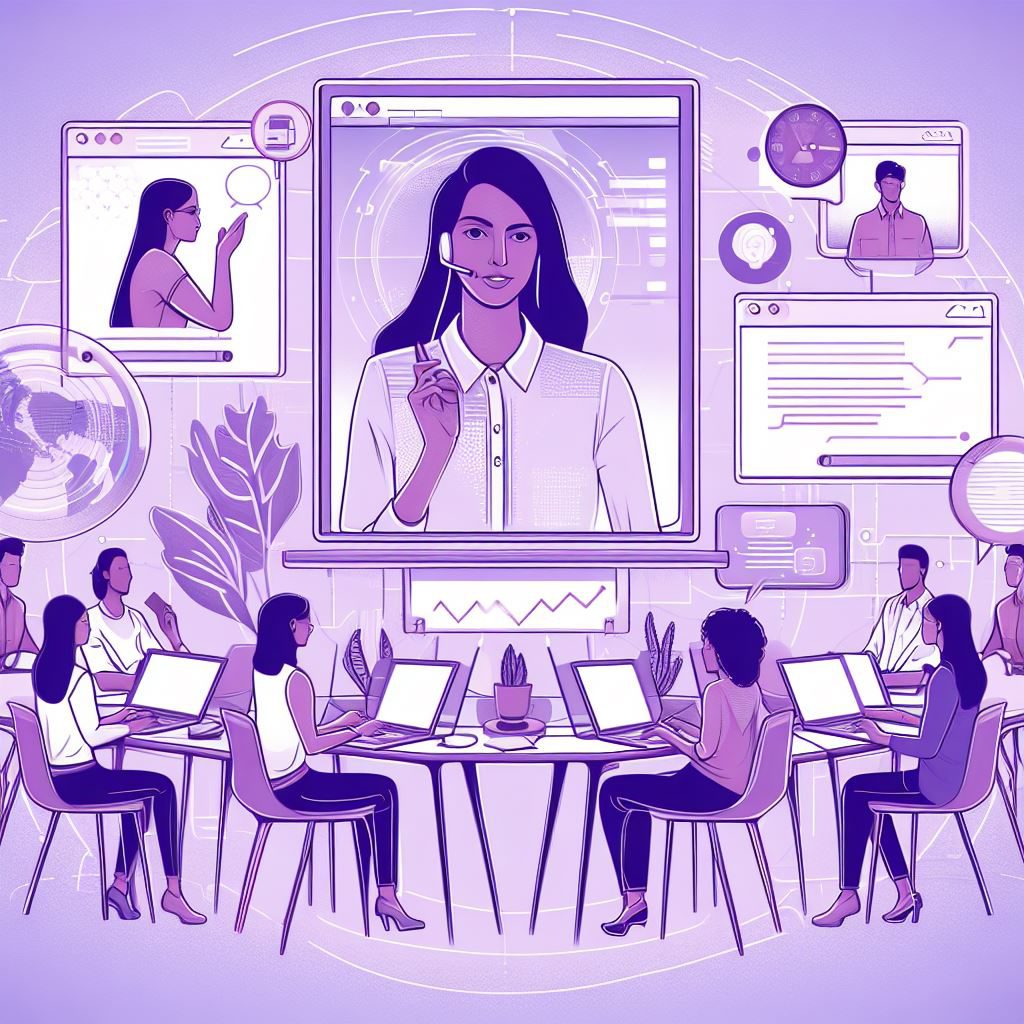 2) Consider the Online Meetings Schedule Date and Time
If your virtual meeting involves participants from different time zones, accommodate their schedules. It's best to consider a date and time that works for everyone, especially if you want particular regions or countries to be well-represented. If you start the online gathering too early or too late in your intended participants' time zones, they might lack motivation to participate or perform poorly when asked to do a task.
Use email calendars and consider the time zones when scheduling video conferences. Do also send out invitations well in advance, giving participants enough time to prepare and make adjustments if needed.
3) Send Information about the Online Meetings in Advance
When you send out invitations to an online meeting or conference, include clear instructions on how to join. The info should include a properly labelled link for the online meeting room and any password an attendee must use to log in. Providing these details in advance can help participants join seamlessly and on time.
You may also want to prepare a structured agenda and share it with your participants via email or instant message. Send all the necessary information in one message to keep participants from getting confused.
4) Set a Professional Virtual Atmosphere
As a meeting or gathering host, you have a crucial role to play in creating a professional and welcoming atmosphere for your attendees. You can start by choosing a professional background. It can be a neutral and uncluttered backdrop to help you maintain a professional appearance. Or, you can choose from the virtual backgrounds available on your chosen video conferencing platform.
Just because you're attending from home and not meeting other people face-to-face doesn't mean you should disregard the dress code for your industry or sector. Dress professionally to set the right tone for the meeting.
Be aware of your surroundings as well. Use soft lighting on your face, like a shaded desk lamp, and avoid direct light. If near large windows, face them for better exposure and, if needed, close windows for less noise.
5) Keep the Online Meetings Productive
Once the meeting is underway, effective management will be essential. It will ensure that you can maximise the time everyone's dedicated to attending your meeting and that all the important items on the agenda are properly brought up.
Start by giving your participants the warmest welcome. This will build a sense of connection that people usually look for in face-to-face interactions. Next, run down the meeting's agenda with everyone to set expectations and allow people to prepare for their involvement.
Throughout the online meeting or conference, periodically check in with participants to see if they have questions or need clarification on certain issues. Create opportunities for participants to contribute by asking for their input and opinions.
6) Schedule a Follow-Up Online Meeting
At times, your meeting participants may become very active, and discussions might extend beyond the time you allotted. If this happens, consider scheduling a follow-up meeting as a way to continue the discussion. Doing so will help you stick to your meeting schedule, especially when you have other matters to talk about. It also shows that you aren't dismissing the participants' insights or forcing them to rush their insights, and that you're simply postponing further talks to another time.
7) Utilise Virtual Collaboration Tools
Most video conferencing platforms offer a variety of collaboration tools. You'll want to maximise them to keep the meeting engaging. For example, you can use the chat features for quick questions or side discussions without interrupting the main conversation. You can also share your screen to present documents, slides, or software demonstrations. When you do this, however, ensure that your screen is uncluttered and organised for a smooth and professional-looking presentation.
If you plan to have group discussions during the virtual meeting, consider using breakout rooms. Group some participants together in smaller meeting rooms, and let them brainstorm and collaborate there. Set a time for these discussion groups and have everyone return to the main meeting room after a fixed amount of time so that you can stick to your schedule.
Conclusion
Virtual meetings have made collaboration easier across spaces and even time zones. But it makes more than just the platform itself to have a productive gathering. Whether you're doing a business presentation, heading a team meeting, or taking charge of a client consultation, refine your online meeting and video conference hosting abilities with the tips listed above.