Workplace Factors Affecting Employee Health
Workplace Factors Affecting Employee Health
Health is one of the most important factors affecting employee well-being and performance. Therefore, it is important to ensure workplace conditions conducive to the health, well-being, and safety of workers. To create the right work environment, you first need to find out the key aspects of employee health and how to ensure a favorable workplace! Read more: Manifestations of Stress in the Work Environment.
Employees are affected not only by factors such as physical health problems resulting from various injuries and sedentary work but also by mental health problems such as stress, depression, anxiety, heart disease, and other adverse health problems. In an unfavorable work environment, the company is affected by higher health insurance costs, loss of employee motivation, innovation, productivity, which results in lower profitability, and customer loyalty.
Work environment affects physical and mental health
What are the main factors, and how to improve them as successfully as possible?
7 factors affecting employee health in their work environment
A study in 2013, Australia, found that only 1 in 8 employees go to company management to seek compensation for injury or illness due to working conditions. The reason for that is the company's negative reaction to the current situation, potential future unemployment risks, complex formalities, the employee's perception that he is not worthy of compensation, or that an injury/illness is not such a serious event to propose workplace improvements.
With this study, and in response to a study by Stanford University Doctor Jeffrey Pfeffer on the effects of the environment on human health, several significant health determinants and recommendations have been identified to enable companies to provide a favorable working environment for their employees.
Type of work and work control
The higher the pressure in the work environment, the greater the likelihood of stress on the workforce, resulting in mental health problems and risks. It also applies to increased control over employee work processes, deadlines, and other requirements.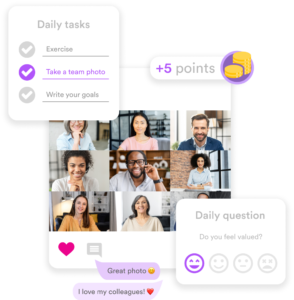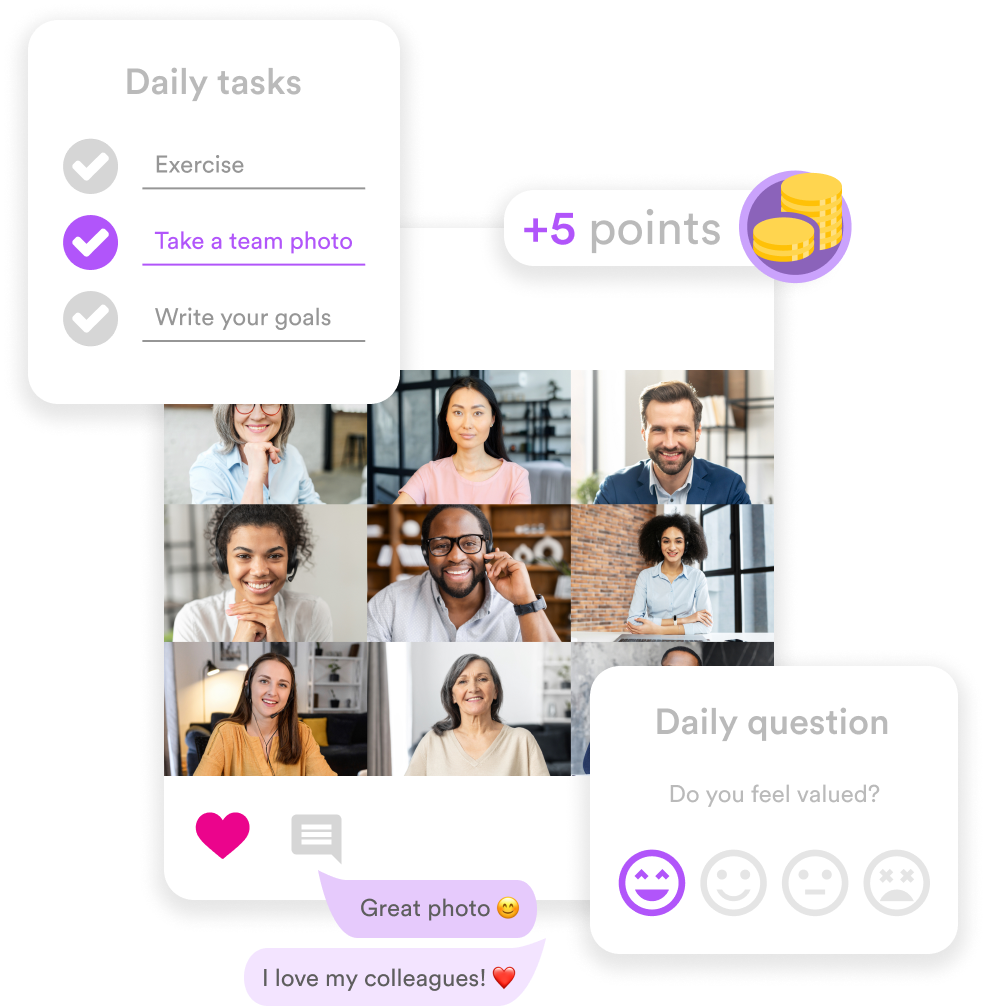 Engage remote employees.
Efectio platform uses gamification & rewards system for engagement, microlearning, onboarding.
Try Efectio for free, no hidden fees.
Tip: In the work environment, it is advisable to introduce variability and flexibility into the tasks to be performed by facilitating employee rotation to specific tasks, resulting in a loss of employee alertness, motivation, or routine that reduces work productivity.
The higher the number of hours worked, the lower the productivity of employees, which is affected by employee fatigue, energy exhaustion, and loss of concentration, leading to heart problems and mental health problems.
Tip: Schedule time for tasks to be performed so that they do not duplicate employees' free, off-site time, which is advisable to spend with family, friends, or alone, with the goal of "disconnecting" from work and resting.
Employee relationships are an important factor in the social environment, positively and negatively affecting a person's health and well-being. Referring to the aforementioned 2013 study in Australia, researchers found that 15-18% of employees are downgraded or disrespected in their workplace.
Tip: Inform about the internal culture and norms of the company to each employee, as well as try out different team building activities to promote employee familiarity, collaboration, and communication.
No work-life balance, conflicts
Employee responsibilities in the workplace and private life create additional stress, workload, and internal reproaches. For example, instead of attending a kid's concert, the employee works because he has to prepare for interviews with potential partners, and so on.
Tip: An important factor on the part of the employee is to choose an employer not only based on the salary but also on whether the job will be friendly to the employee's physical and mental health. Company management needs to understand that employee's family is an essential part of his life, so it is important not to interfere with work-life balance. That will result in employee productivity and engagement.
Honesty and justice in the workplace
These are some of the most important aspects of building employee trust in the company, and its policies – fair distribution of work, pay, job opportunities, promotion opportunities, etc.
Tip: Provide employees with clear business objectives, principles, and guarantee equality among colleagues by granting equal rights.
Economic insecurity and redundancy
Fears that the company will not make a profit and will not be able to pay regular wages tend to be one of the stressors among employees. A major source of insecurity is employee fear about possible redundancies, especially if their colleagues are experiencing redundancies.
Tip: To inform employees on time about potential company problems and their threats to the company's future, without causing any unpleasant moments of surprise to employees, which causes higher levels of stress and anxiety than timely awareness.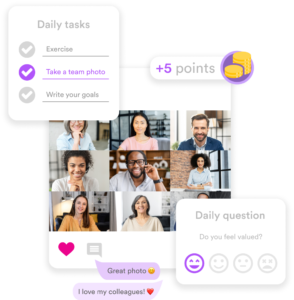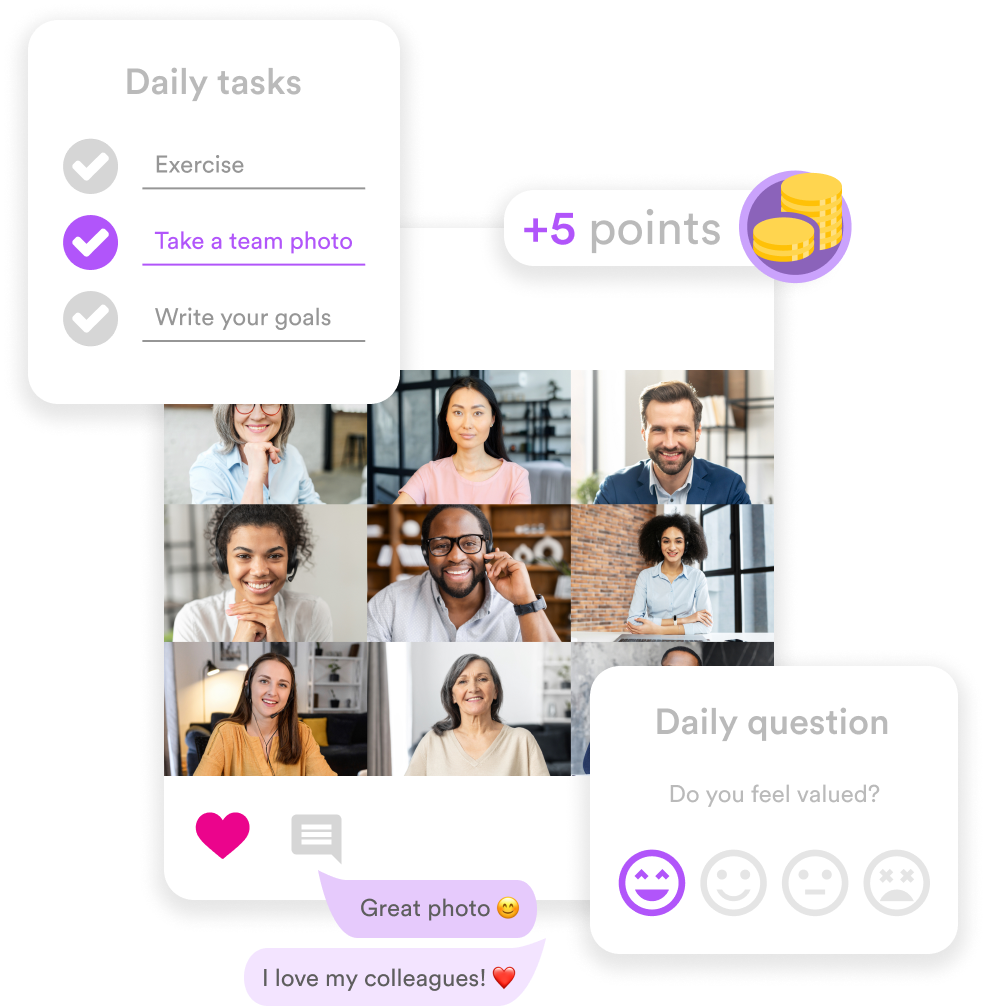 Engage remote employees.
Efectio platform uses gamification & rewards system for engagement, microlearning, onboarding.
Try Efectio for free, no hidden fees.
Not all companies provide and are able to provide health insurance to their employees, which is limited by the rising cost per employee.
Tip: While the primary goal is to provide health insurance to all employees of the company, it is equally important to keep track of the company's internal environmental processes and the factors affecting employee health, both by making the above improvements and by asking and accepting recommendations from employees. They are the best to determine what harms their health and well-being at work.
Read more: Stable Mental Health in the Workplace.