How to Create a More Engaging Conference Experience with a Great Emcee
Employee engagement as a concept is gaining prime importance in the business arena, where businesses have understood the incredible value of engaged employees. The key is to create a participative environment and make employees feel included. Therefore, companies have been trying to adopt various methods to boost employee engagement, and one among them is conferences. This article uncovers the various ways in which conferences contribute to employee engagement and the role of emcees in achieving it.
One of the ways globally that organizations incorporate DE&I into their meeting programs and conferences is by choosing diverse/minority speakers, emcees, or entertainment. For example in North America, 40% of respondents pointed out that, choosing a diverse emcee is the main way of incorporating DE&I.
Purpose of Conferences in the Corporate World
In general, conferences are themed and objective. Depending on the need of the hour, the agenda of a conference is designed. However, in general, organizing a conference is one of the ways to collaborate with employees, get their views, motivate them, and keep them engaged. Unlike corporate events, conferences are more career-driven and industry-oriented. It doesn't incorporate entertainment like events do. Engaged employees at conferences are more likely to absorb information, network, and return to work with a renewed sense of purpose.
Advent of Emcees
Conferences are professional events. Most conferences are subject-oriented and are led by fellow employees or immediate bosses. But times are changing, and emcees have entered the zone of conferences, too. As per the words of star speaker and master of ceremonies Adam Christing, the role of the emcee should be to glue the event and the audience without any hassle.
Emcees are not mere hosts here. They are facilitators of engagement. They have the power to set the tone, captivate the audience, and create an unforgettable conference experience. Their role extends beyond introductions and transitions, increasing employee participation and resulting in better engagement.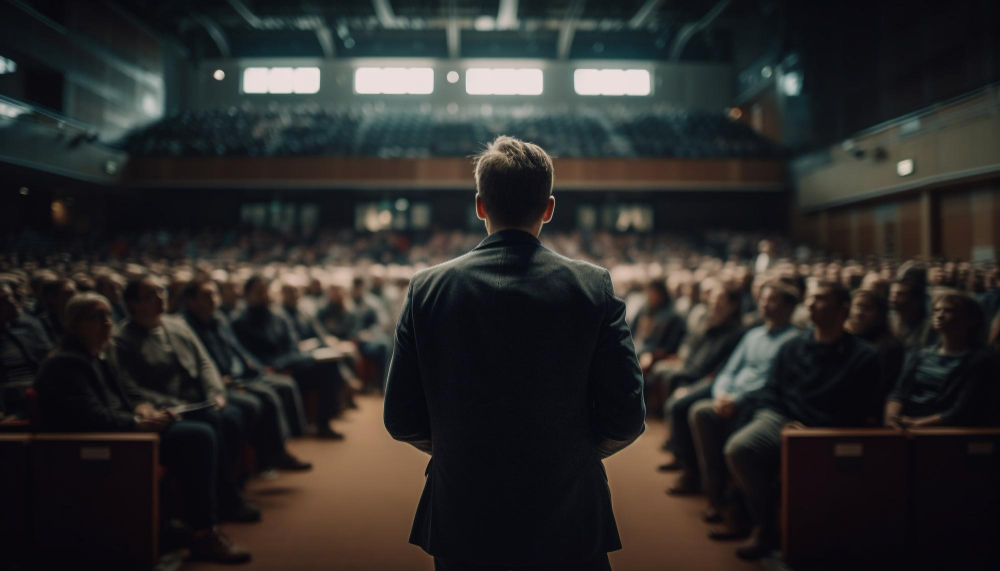 Pre-conference preparation
Emcees who know their job begin the work by understanding the purpose of the conference and the needs of the attendees and the organizers. They plan the course of events and their content around it. This helps them gain the insights and knowledge required to keep employees glued throughout.
Energizing the Audience
Not every attendee is enthusiastic about these conferences. Not everyone is participative. Probably, most of them have made it to the conference just to entertain themselves and fulfill the mandatory attendance criteria. Therefore, emcees have to ensure that these closed employees break free and understand the need for engagement. That is why emcees plan certain events that help energize the employees and make them better participative.
Content Delivery
Content is the king in conferences. It helps to keep the conference well-paced and thought out. Effective emcees play a significant role in content delivery. They ensure that presentations and sessions flow smoothly, engage the audience, and keep everyone on track. Their timing and transitions are critical to maintaining momentum.
Employee Participation
Emcees always find a way to rope in employee participation, be it conferences or corporate events. More than just energizing the crowd, they help employees make meaningful participation and contribution to the conference, increasing their spirits and sustaining employee engagement.
Seeking feedback
Another reason for the success of emcees in the corporate world, be it events or conferences, is their ability to seek feedback and make actual changes to their scheme of work. This helps them perform better and pull more crowds to participate. Further, the impact of the emcee on employee engagement can be measured through attendee feedback and post-conference evaluations. Positive feedback and increased interaction are clear indicators of success.
Conclusion
Emcees excel in their role by continually improving their skills, staying adaptable, and embracing new techniques. Ongoing learning and professional development are key to ensuring their effectiveness. Organizations looking to enhance employee engagement at conferences should recognize the significant role emcees play and invest in their training and development.