The Importance of Social Engagement at Workplace
The Importance of Social Engagement at Workplace
The role of social interaction in employee engagement
1.1. Why is socialization at work important?
1.2. How does socialization relate to employee engagement in the working process?
1.3. Which social activities improve engagement?
1.4. What type of conversations play a role in social engagement?
1.5. Mistakes that prevent the social engagement process
Hacks for building an excellent team-work and cooperation
2.1. How are teamwork and collaboration connected?
2.2. What should we consider to promote successful teamwork and collaboration?
2.3. Uniting the team with transparency and trust-building
Social and communication skills on individual level
3.1. How to use effective communication
3.2. Building connections
3.3. How to build a strong mutual relation?
3.4. Social learning for development
3.5. Advanced social skill development
Final thoughts
Introduction
Today, companies strive to create specific values and goals in order to shape an environment that empowers employee collaboration and effectiveness. Corporate social responsibility and long-term employee engagement form a strong foundation for workplace culture and high-performing teams. Effective leaders will confirm: engaging all levels of an organization in practices shaped with social responsibility, interaction, collaboration, and clear communication promotes vibrant, sustainable organizations. Read more: Why is Communication in the Workplace Important and How to Improve It
Paul Polman, Unilever's CEO, wrote in the Stanford Social Innovation Reviews that "the key to creating a vibrant and sustainable company is to find ways to get all employees, from top executives to the assembly workers, personally engaged in day-to-day corporate sustainability efforts."
Social engagement forms an integral part of a company's culture. We know social engagement builds a pleasant working environment and promotes a company's efficiency and productivity. So the question is:
How are these ideas,
social interaction
teamwork
collaboration
communication,
related and how do you promote social engagement?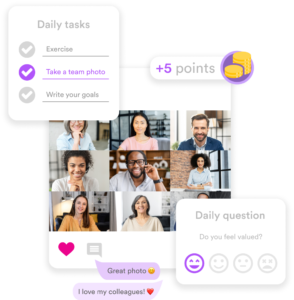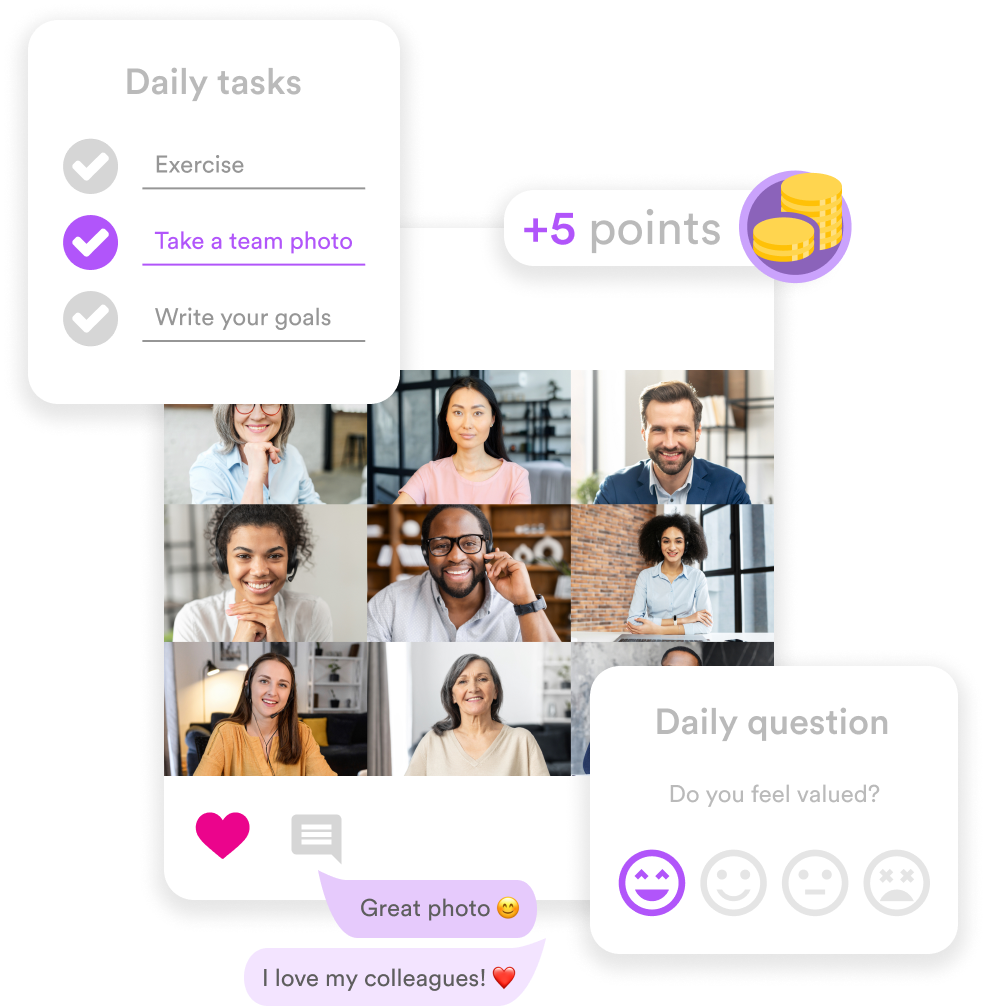 Engage remote employees.
Efectio platform uses gamification & rewards system for engagement, microlearning, onboarding.
Try Efectio for free, no hidden fees.
1. The role of social interaction in employee engagement
1.1. Why is socialization at work important?
Many of us likely think of the workplace as a place to focus solely on work. However, this proves far from true, as: "Up to 80% of businesses use social collaboration tools for enhancing business processes." [Source: Mckinsey]
Socialization in the workplace embodies multiple components necessary for growth and success; personal development, learning and skills mastery, and clear, positive communication all factor into employee engagement in the socialization process. Because of this, experts share and look for the benefits of effective socialization processes for the workplace.
The main benefits of the socialization process in the workplace:
Increased efficiency and a more adept work team. When the team becomes united and establishes good contact and communication between employees, the company succeeds. Focusing on the efficiency of communications enables employees to work together with a good understanding and move towards specific goals. A cohesive team will do their job effectively, carry out their responsibilities, and understand the importance of their participation and the value of collaborating with other employees.
Honesty. An essential factor in resolving problems, disputes, and uncertainties. Colleagues that develop informal relationships with each other feel free to communicate with each more openly while entirely formal relationships can hinder openness between employees. Implementing best practices to promote socialization helps employees understand each other as well as share more freely and honestly. Honesty forms relationships with respect, and encourages more extended dialogues and collaboration
Inspiring collaboration. As a result of successful socialization, employees make more contacts that promote higher impact work performance. Closer cooperation, socialization, and communication establish natural collaboration.
A healthier lifestyle. Socializing increases positive emotions and the joy of working. Studies show that employees who socialize more lead to better morality within the workplace, which, as a result, leads to better health for those coworkers. Relationships and friendships make work environments more enjoyable while still maintaining productivity.
Networking. Nowadays, success at work depends on the ability to network effectively with a large amount of information and available resources.Obtaining information and contacts proves invaluable for future work and other processes. Socializing with others also boosts personal networks. "80% of professionals believe that career success can be elevated through professional networking." [Source: LinkedIn Newsroom]
Get 7 more tips on how to improve your company culture.
EN – form – "7 Tips" | Tag – "en-7-tips-f
AC – 7steps-EN
"*" indicates required fields
1.2. How does socialization relate to employee engagement in the working process?
The specific work environment, the team, and what we do at work is an integral part of everyday life. Many people spend more time at work than at home, so employees' general feeling is based on the work's productivity, the work culture and the overall team, how easy it is to work together and communicate with colleagues.
Full-fledged employee engagement in work tasks is not possible if the employee isn't interested in the operations of a particular company, or in realizing the shared vision and goals. Of course, this interest can be garnered by learning, understanding, and communicating. This way, the employee can socialize and establish contact with the employer or manager and with the work team.
1.3. Which social activities improve engagement?
Individual conversations with the manager
Conversations with the employer or manager aren't just important at the beginning for recruiting employees and participating in job interviews. Regardless of the formal or informal management style the supervisor uses, employees need awareness of the organization's main goals and the tasks needed r to achieve them.
To resolve uncertainties, complaints, or address recommendations or ideas, discussions with the supervisor in the work process need to occur. Personal conversations lead to better collaboration and encourage involvement in the working process. However, the working environment needs psychological safety for valuable conversations to occur, so employees feel comfortable having more difficult discussions.
Feedback
Feedback forms part of successfully engaging employees in the working process.Employees should receive feedback in consistent intervals and have opportunities to express their opinions on completed work tasks, including providing suggestions for improvement.
"Among the respondents, 67% said they felt providing feedback to their employer was a "valuable use of my time," and 60% said they had a "strong desire" to provide feedback if it meant the company would improve. In an almost inverse response, 44% said they believed their employers cared about workers' points of view, and 40% said they believed their feedback would be acted upon."
Both parties involved in the feedback process should know that it is not intended as a deliberate critique or attack. Instead, the main reason for feedback is to promote support and cooperation.
Share successes and failures
As technology advances and delivers new tools to us, we also need to discover new communication practices and habits; especially finding new ways to share our wins and failures. Implementing this practice of sharing wins and failures maps out paths to future successes as well as supports analysis of problems in the work process. Daily, weekly, or monthly conversations with all employees and between employees will help people understand each individual's strengths and weaknesses. In turn, this can help achieve the company's goals and understand what hinders their realization.
Encourage each other
This also refers to the points mentioned above, because sharing success, encouragement, or help in difficult times, and dealing with problems forms the most important part of social engagement at work. Such support must come naturally and without coercion from employees, as it also reflects the team's cohesion and unity. Each individual motivation serves as an important driving force, but support or words of encouragement help us to not get hindered by obstacles and continue to work on what we've started. In this way, the internal company culture forms and can create a positive and pleasant work environment.
1.4. What type of conversations play a role in social engagement?
From the water cooler or breakroom to the work floor or office, many types of conversations happen at work. Knowing how to make conversations contribute to goals and align with culture makes a valuable skill. Here are a few types of conversations to consider working into your routine:
Open conversations. Talking frankly opens up new perspectives and opportunities to build good collaborations and develop plans. These talks provide the spaces where we hatch our best ideas, gain insights, and broaden our viewpoints. Such conversations in the workplace can encourage leaders to take the initiative and improve relationships with colleagues.
Conversations about potential. Leaders can inquire and ask questions of employees in conversations to discover and evaluate the potential of employees and highlight their strengths. Leaders also have a significant influence on how their workers view themselves.
In the book "Superbosses", Dartmouth Professor Sydney Finkelstein found that "The world's most extraordinary bosses bring out untapped talents in their people. Recognizing and articulating someone's potential creates a virtuous cycle where people do more because they believe they can."
Exciting and energetic conversations. Energy is limited, so its potential can be used as a result of its surges. It can positively charge or promote the emergence of new ideas and enthusiasm. Energy should certainly not be wasted, but directly shared with others and encouraged by the development of ideas, inspiration and the desire to do what is started or start new work.
Purposeful conversations. Empty conversations often fill up time, but don't contribute or result in meaningful communication. To achieve individual and company goals, assign value and purpose to each conversation.
"Because purpose is so personal to each of us, having a leader who is willing to go there with us shows a level of care for others not just as workers, but as human beings. And in doing so, it builds loyalty and followership, which supports greater performance," Kristi Hedges, senior leadership coach.
1.5. Mistakes that prevent the social engagement process
Not every strategy produces high levels of engagement, and some actions and attitudes can hinder engagement; but the challenge lies in understanding what works and fails in your work's social engagement processes. So, what are the typical mistakes that employers often make?
Contempt for employees
Contempt or humiliation of employees, whether public or private, completely undermines the motivation, loyalty and willingness of employees to open communication. While we should not remain silent about employees' mistakes or less successful solutions, we should be able to say so politely without humiliating the other. Ignoring this small nuance often damages the employer's relationship with employees.
Not praising a job that's well done
You have to learn to appreciate the work done by employees, because it contributes to the company's development. The supervisor should not be ashamed to tell or overlook employees' excellent work, especially after overcoming difficult challenges. Otherwise, employees who really invest their time and dedication in their work, will over time lose their productivity, efficiency and investment.
Poor and weak communication
In the case of incomplete socialization, both sides lose the opportunity to cooperate, share ideas, exchange ideas or transfer important information. Important information in the workplace can be anything related to the work process and the environment. Likewise, any unspoken nuances or adjustments in work performance can hinder the full performance of work. Look for strategies that strengthen communication and ask employees how they prefer to communicate.
No time for discussion and suggestions
By doing their job mechanically and meeting deadlines, employees don't do anything wrong, but they also don't contribute to the formation of feedback or the process of job improvement. Experts recommend open negotiations and discussions about the set goals and how to achieve for all organizational levels. Accurate and useful recommendations for any employee will be helpful in the work process, and will allow you to look at problems from a different point of view.
Minor and repeated meetings
Undoubtedly, meetings are part of communicating with employees. Still, if they don't add value, have a clear purpose, or provide any valuable information, they're just a waste of time.
2. Hacks for building an excellent team-work and cooperation
2.1. How are teamwork and collaboration connected?
About 75% of employers rate teamwork and collaboration as "very important", yet only 18% of employees get communication evaluations at their performance reviews. [Source: Queens University of Charlotte]
When you work in one team, you have to learn to trust each other because it's important for coworkers to feel comfortable with each other, especially between stressful deadlines. Collaborative tasks also help individual growth because stopping at a task that is so difficult to deal with will benefit from the help of colleagues and joint contribution to the work process.
Imagine working with a team you can't trust, with people you can't feel comfortable with, and trying to accomplish difficult tasks with tight deadlines. Hopefully, nobody reading this has had to experience this. The point of this imaginative exercise is to highlight how collaborative tasks promote growth, goal achievement, and effective collaboration.
For many, colleagues become like a second family as they spend some time together and move towards shared goals. Leaders should prioritize shaping a supportive work team to create a pleasant, effective work environment. An effective, collaborative team consists of employees that complement each other's strengths and reduce the impact of weaknesses on the work. The success of any business depends on healthy collaboration and teamwork to move goals forward to completion.
The basics of team effectiveness were identified by J. Richard Hackman, a pioneer in the field of organizational behavior who began studying teams in the 1970s. In more than 40 years of research, he uncovered a groundbreaking insight: What matters most to collaboration is not
personalities
attitudes
or behavioral styles of team members.
Instead, what teams need to do is to follow certain "enabling conditions."
"The likelihood of effectiveness increases when a team
Becomes a real team rather than a team in name only
Finds a compelling direction for its work
Follows an enabling structure that facilitates rather than impedes teamwork
Operates within a supportive organizational context
Receives available ample, expert coaching focused on building teamwork"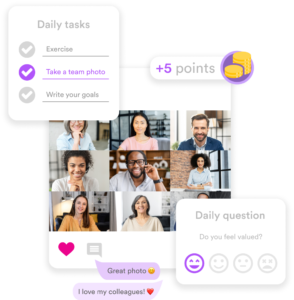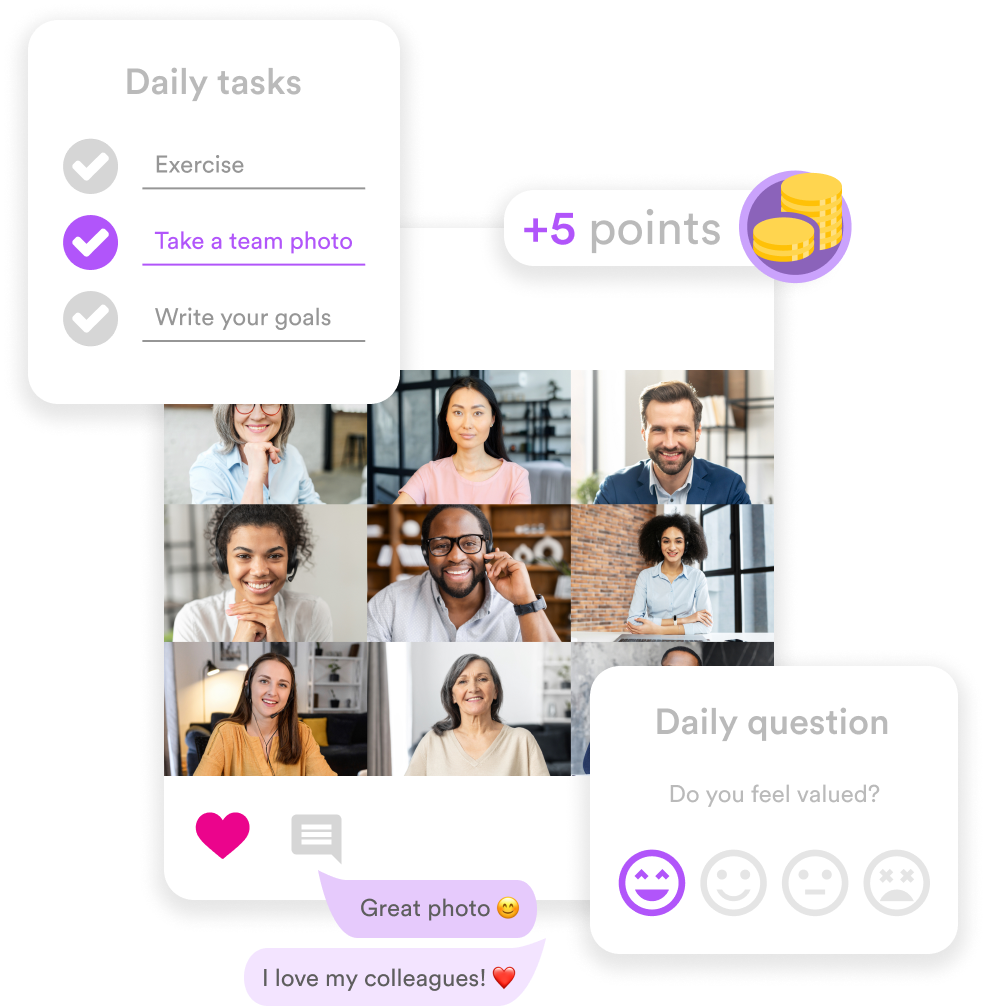 Engage remote employees.
Efectio platform uses gamification & rewards system for engagement, microlearning, onboarding.
Try Efectio for free, no hidden fees.
2.2. What should we consider to promote successful teamwork and collaboration?
A successful and cohesive team forms the bedrock for productivity and successful business.
"54% of employees say a strong sense of community (great coworkers, celebrating milestones, a common mission) kept them at a company longer than was in their best interest."
Team versatility. Good chemistry should exist in a team, but sometimes a group of employees with diverse strengths prove better suited to find creative solutions and to innovate. Having diversity in culture, thinking, and abilities is essential.
Smaller work teams outperform individual geniuses. The phrase "No man is an island" echoes over and over in modern businesses. This saying explains that no single person is entirely self-sufficient. A diverse team of up to 5 people likely will produce better solutions than an individual carrying too many responsibilities. Individual activity in a team makes a more significant contribution because then joint decisions are made in the team, and solutions and division of responsibilities are discussed.
Strong socialization and interpersonal skills. Interpersonal skills play an important role in the success of the team. However, these skills depend on each individual's contributions to the socialization on the team. Social skills, like any skills, can improvefor and empower all team members to work together in a team.
Openness to cooperate. Leaders can't coerce employees with ultimatums or threats. Open communication leads to creating collaborative environments . One way to promote team spirit and openness among employees is through a manager or employer; if an employer feels free to express their opinion, ask questions, and start a conversation with the employees, it will foster an open atmosphere.
Commitment to providing the best. Salaries and bonuses should not be an employee's primary motivator, because internal satisfaction and the desire to improve and achieve specific goals give much more. Employees motivated effectively with a balance of monetary rewards and internal satisfaction embrace collaboration and exhibit higher levels of performance.
While all of the listed recommendations for cohesive, collaborative teams promote success and effectiveness, leaders cannot forget the importance of trust and psychological safety. Especially in a new workplace or for a new team, the challenge of fostering trust among team members proves vital for the creation of a cohesive team. Is there a special key to creating mutual trust in others and colleagues' faith in you? How not to be afraid to rely on each other and allow successful cooperation?
Simply put – it takes time. Try doing common tasks together, or even make mistakes. It's not impossible to gradually start to trust others from the first day in the workplace.
According to the new Edelman "Trust Barometer" (a survey of 33,000 people in 28 countries),
"One in three people don't trust their employer. Trust decreases from top positions to the lowest. For instance, 64% of executives trust their organizations, while only 51% of managers and 48% of other staff stated they trust their organizations."
No mutual trust in the team leads to no success for the team. A lack of trust could indicate:
employees having unsuccessful previous work experience with colleagues
Working conditions that do not foster cooperation
or poor relations with supervisor
Of course, employees will enjoy an environment where they feel a sense of loyalty, reliability, and will be more open to communication and creating a positive work environment. In sum, trust makes it possible to overcome challenges together, achieve goals, and overcome difficulties by talking to each other.
This phase until the moment of mutual trust can be called trust-building, as it's a gradual formation in which at least two sides are involved. It is not worth waiting for a miracle when the same thing happens on its own and internal doubts, fears, or ignorance resolve.
2.3. Uniting the team with transparency and trust-building
Mutual respect seems to be understandable, but what does transparency entail? Doestransparency = honesty? What trust-building activities can be helpful and build trust? How can you unite your team?
Fostering a positive, creative, and effective working environment relies on a foundation of trust. A lack of trust can destroy or disrupt a work environment.
Transparency
Transparency is about openness, but it also includes honesty and fairness. For building mutual trust, transparency demonstrates responsibility in the communication process.
For example, after completing a task or, conversely, after making a mistake, give open feedback, not just to praise what has been done, but speak openly about the mistakes made or what should be improved. Feedback will also affect future work and collaboration, reducing an employee's chance of making the same mistake.
Teams need to value when an employee admits and talks about their failures and mistakes, as well as discusses how they will improve and achieve better results in the future. Many employers and colleagues appreciate this as a step forward in mutual trust.
Trust-building activities
Activities aimed at building mutual morale and trust in teams.
Often when working in one team, we don't know our colleagues that well. Try creating a question game to find out more about your colleagues' interests, past experiences, or personal goals. For example, questions can be written on a page and then asked to a specific person, or exactly everyone has to answer one question to then go to the next.
3. Social and communication skills on individual level
3.1. How to use effective communication
Communication with team members carries value and deserves to be taken seriously. Most people do not even think about their communication habits or what they could improve. Poor communication leads to the loss of interest in continued relationships. A careless conversation can lead to a bad outcome. Read more: Tips for Improving Communication Skills. So, how can you reduce confusion or the possibility of using poor communication? What can you avoid and what actions can you take to promote positive communication?
Communication both as a process and as a goal
The purpose of any communication process should have more than just mutual understanding or the transfer and exchange of information; it should have a goal. Without reaching an end goal, the benefit of communication may have been the process itself, especially when you can learn something new about the other person's communication style.
Show respect for the other person
Both in listening and relaying information to others, you should remember courtesy and respect. Unpleasant everyday habits – scratching your nose, keeping your hands in your pockets, or looking out the window during a conversation creates an unpleasant impression and does not form good communication. Likewise, when talking to a client on the phone, an unexpected interruption doesn't foster the best atmosphere for a successful conversation.
Preparing before a more serious conversation
In order to avoid awkward moments, confusion, or wrong impressions, it's crucial to take time to prepare information in advance. This does not mean planning for everyserious conversation, but maybe considering going through the most important stopping points and topics in order to have a successful conversation. A good impression may lead to a continued relationship, networking connection, or an opportunity for collaboration; a little preparation goes a long way.Joint responsibility and negotiation
With any communication, at least two sides are involved, so the conversation's maintenance also depends on both parties. You can never predict everything and prepare perfect answers to every question. Nor can you avoid saying something superfluous or inappropriate. In order to not make these kinds of situations even more awkward, one should try to answer politely, ask questions if necessary and clarify ambiguities.
Companies and organizations that communicate effectively are 4.5x more likely to retain the best employees. Employee satisfaction isn't stagnant, either, and employers have to keep that in mind when developing initiatives. "What once made someone happy might not in the future since they become accustomed to it and grow to expect it," says Guillermo Willi, chief people officer at Globant.
3.2. Building connections
Humans are social creatures who come into contact with each other on a daily basis, but, despite the importance of social interaction, our understanding of the neural factors that control social behavior is limited. For example, at work, we spend almost one third of the time in our workplace networking and communicating. While we may not understand the brain's role in our social interactions as thoroughly as we'd like, there is no denying that pleasant communication with employees promotes positive relationships and work environments..
Guillermo Willi, chief people officer at Globant, believes that motivation and engagement play vital roles in keeping employees satisfied and happy, which consequently leads to keeping a business running and successful.
"Happiness means different things to different people and therefore, the focus should be on making sure employees feel connected and engaged within the organization since that's what will influence their loyalty and happiness," he said.
A good work relationship requires:
trust
respect
self-awareness
inclusion
and open communication.
Although an employee should build and maintain good working relationships with everyone, some relationships deserve more attention than others, like the relationship between an employer and an employee as a manager can account for up to 70% of a team's engagement (Gallup).
3.3. How to build a strong mutual relation?
Focus on active and conscious listening. People who listen to others shape better contacts and more meaningful connections. Furthermore, by practicing mindful listening, we can talk less and understand more.
Allocate time for communication. After a day of work or during a lunch break, invite colleagues to have coffee, have lunch, or do some work together. Use the break to discuss tasks or share experiences and suggestions. If face to face interactions can't happen, give a "one-minute kindness" by commenting on a co-worker's LinkedIn post you enjoyed reading. These little interactions take time but lay the groundwork for healthy relationships.
Improve and develop your skills. Good relationships start with good people skills because connections depend on your individual skills. You can try this test: How Good Are Your People Skills? to check how well you collaborate, communicate, and deal with conflict.
Appreciate others. Find the value in each colleague's performance and contributions even if you do not work together daily. Remember to highlight and praise colleagues on a regularly, as praise and recognition will open the door to great work relationships.
Positive attitude. Colleagues will appreciate and notice a positive and open-minded approach. Positive energy attracts others and encourages communication.
3.4. Social learning for development
Today, companies use their Learning and Development departments to tap into better business performance with focus on social learning. Read more: Boosting Engagement through Learning and Personal Growth.
Social learning includes communication, development and education. "It is based on the idea developed by Stanford psychologist Albert Bandura that we learn behaviors through observation and imitation," Charlie Chung, senior director solutions consulting at NovoEd said. We also know that social learning carries additional benefits. "It is interesting that social learning boosts knowledge retention", according to Matt Powell, product marketing manager at Docebo; "when learning happens during the flow of work, it's more meaningful and the lessons are more effective", he said.
We know that learning during work proves more effective, as on-the-job training in the workplace has revealed. This approach to social learning has become more and more relevant, as these days everything is changing rapidly and striving for improvement. There are fewer and fewer face-to-face meetings, but this does not outweigh the need for socialization and employee interaction in the work process. This poses a challenge in the workplace for both the employer and the employees. But, by introducing social learning strategies at work, you can improve:
Training comprehension and retention rates
soft skills
leadership
communication
innovation
Shifting behaviors and achieving growth often requires social interaction and collaboration. In addition social learning through coaching, mentorship, and by receiving feedback promotes the development of soft skills. The process of social learning may take place in the company unconsciously every day, organizing meetings, discussing daily tasks and goals.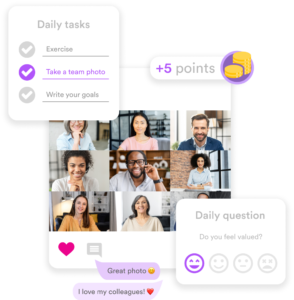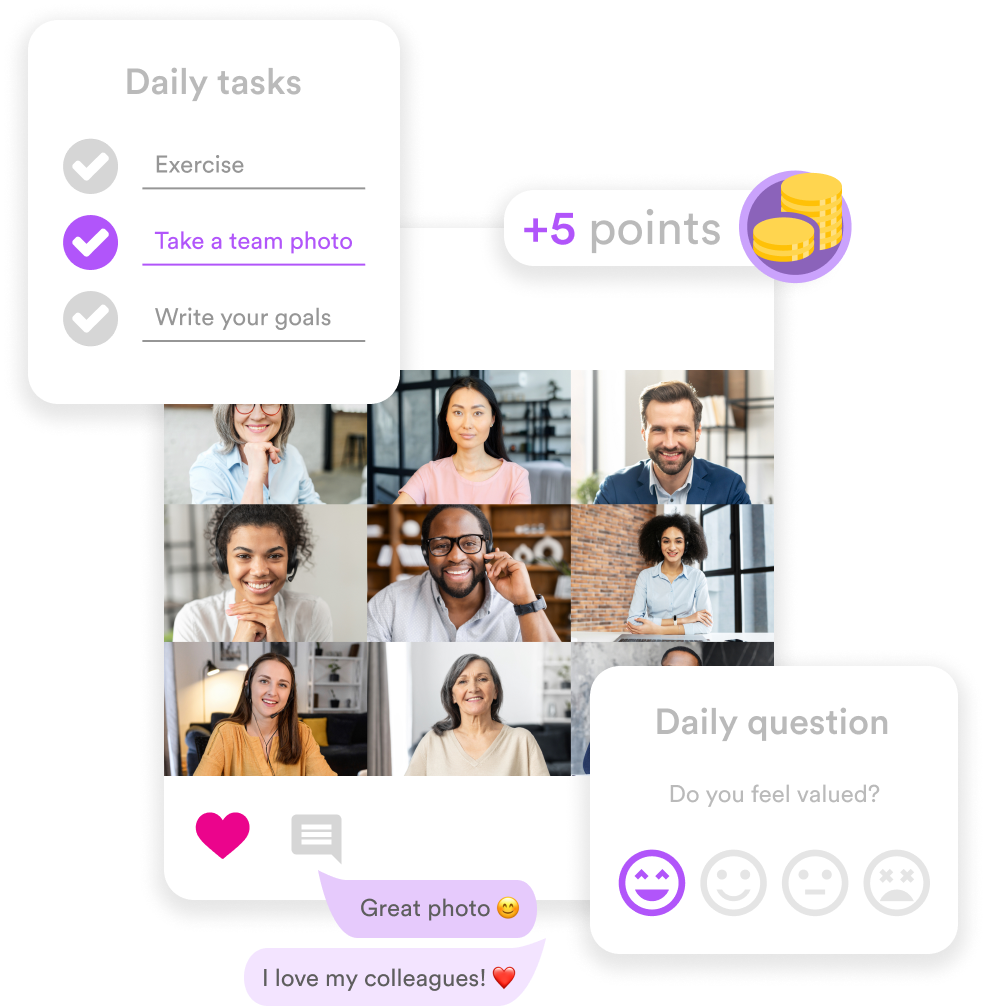 Engage remote employees.
Efectio platform uses gamification & rewards system for engagement, microlearning, onboarding.
Try Efectio for free, no hidden fees.
3.5. Advanced social skill development
Body language
Non-verbal communication deserves development too. As a part of communication, we perceive and observe each other's signals through body language. Wecan also better understand a conversation's purpose and each other's attitude. To improve your knowledge of body language signals, Udemy offers many different online courses:
Body language for entrepreneurs;
The secrets of body language;
Digital body language, etc.
https://www.udemy.com/topic/body-language/
Public speaking
Presentations and public speaking in front of others can cause tremendous anxiety, known as glossophobia, as many as 77% of people fear this. Fortunately, presentation skills can improve in just a month or even a week, building confidence and valuable skills along the way:
Self-confidence and self-esteem
Self-confidence empowers us to achieve goals, believe in our ideas, and make effective decisions. Awareness of our strengths and weaknesses offers valuable perspectives that help us appreciate our colleagues. In order to make decisions in difficult situations or to cope with challenges in the workplace, it is necessary to have faith in one's strength and skills.
How can you increase self-confidence? Check out these useful courses for any industry specialist or manager:
Critical and logical thinking
Critical thinking adds an invaluable skill to any skillset, as it proves necessary to perform productively and qualitatively,to create pleasant communication with others, and to evaluate different situations. This means adopting a realistic and logical view when making choices or decisions. To develop and improve your critical and analytical thinking skills, check out these online courses:
Cross-cultural management
Often misunderstandings in business are due to culture or accepted standards, so it is important to be open and aware of cultural differences. Learning intercultural management can help with diverse communication situations . The following courses in cross-cultural management are offered:
Final thoughts
Social engagement in the workplace depends on both the employee and the workplace environment. Communication, which emcompasses cooperation, teamwork, and a successful team, is of the utmost importance in social engagement.
Start with your initiative, openness and honesty, which creates favorable communication conditions, not passive work in your field. Joint projects, time spent together in meetings, allow you to get to know each other better in a team, so such opportunities should be used and important to promote team-building activities. In order to improve oneself as a personality, one could also contribute more to the company and cooperation. We can use the opportunity to develop socialization skills in online courses.
In a modern company, a successful team will be versatile, cohesive and purposeful, so it is essential to get involved in the work process and create such an environment around you! Read more: Why Team-building Can be a Challenge.